Today's post is from Rosanna Brubacker, who blogs at Thyme On My Path:
"Mary!" Ben yelled.  "Get downstairs and check your soup!  It's boiling over!  How dumb can you be?  Don't you know that you just don't walk off when you're cooking?  Hurry!"
"I'm coming."  Mary called back.  Quickly she scooped little Jerry from the changing table and grabbed his pants. She hurried down the stairs and flinched as she came around the corner.  Her husband had risen from his seat at the head of the table and was standing at the bottom of the stairs.  His face was red and his eyes narrowed.
"You crazy woman!  What were you thinking?" he roared.  He shoved her towards the stove where the water was hissing up and over onto the stove top.  "How can you be so stupid!  Is this how you're going to teach Angela to act?" He gestured toward the living room doorway where their eleven-year-old daughter was doing her homework.
"You were down here, Ben." Mary answered shifting the baby to her hip opposite Jerry and the stove.  She tilted the kettle lid.  "Why didn't you turn the stove down?"
"Quit back talking!" Ben shot back.  "I was working all day. There's no reason I need to be doing your work, too!"
Mary and Ben are Mennonite.  Every Sunday they drive to church and listen to solid Biblical teaching.  Then they come home.  Sometimes someone makes a comment about Ben's irritability on the job. Occasionally you hear a rumor about Mary and Ben's marriage problems.  No one from church actually hears what goes on in their home day by day.  Maybe someone has heard Ben drop a critical comment about his wife's laziness or disrespect toward him, but Mary never mentioned anything.
The inside story is what I am going to tell you about. Ben is an abuser.  Abuse happens in Christian families.  Abuse happens in Mennonite families. Abuse happens to Mary but Mary will probably never tell you.  She believes myths.  She believes that:
Mennonite men do not abuse.
She is not submissive enough.
She is not competent.
She is powerless.
She must not tell anyone what Ben is like because it would be complaining.
If she does tell people no one will believe her.  Ben is really a wonderful man in church. He is an excellent song leader and he is a very spiritual man.
If she does tell people and Ben finds out, Ben will be so angry.  The first time he hit her she told her mother and her mother told her dad.  When Ben was approached by her dad, Ben told her dad that he "just lost it because Mary was so rebellious." He promised never to do it again.  That lasted only till Ben got home that night.  He smacked her across the face and told her that if she ever lied about him again, she would "get it" worse.
Mary just goes to church and smiles. And you do not know what goes on in your church.
How will you help Mary?  Many of us live in denial about abuse statistics.  For every Mary who gets help there are many more women who do not.  Abuse happens to one out of every four women and it happens in various ways.  Here are some forms of abuse:
In conservative Christian homes, these things take place.  They take place in Amish and Mennonite homes as well as in every other cultural group.  Again, what are we going to do about it?  First, let's get rid of the myths.  We already addressed number one.
Abuse is not caused by women not being submissive enough.  Nothing any person does warrants abuse. God has given us a plan to address offenses in Matthew 18:15-17, James 5: 20, Proverbs 27:6, and Jude v. 23. God does not want violence to happen in the home.  Men are not exempt from the command to be kind simply because they are husbands. Women are not exempt from the command to warn her husband to repent from sin just because they are wives. Kindness and accountability should begin in the home because it is the place where little children learn how to treat other people, including their future spouses. Domestic violence is a choice by a man to step outside of God's plan for relationships. In other words, abuse is sin. To read more about a man's choice to abuse and the root of it, pride, click here.
Abuse causes people to become incompetent.  To destroy someone fast, tell them they are stupid.  After being told this often enough they will believe it.  Encouragement, kindness, and loving correction causes people to grow and become competent.
Abuse causes powerlessness.  Loving godly people empower others and lift and encourage others and esteem others.
Love is honest.  Love does not lie by covering up wickedness.  If one approaches an offender with truth and kindness and honesty and humility and the offender chooses to hate, then the Bible gives clear direction not to fellowship with that person. Avoid picking up the habits of that person.  Remember, love is kind, but love does not lie.  Love brings into relationship with God, if the person is willing.  If the person is not willing, be polite like God has taught you, but do not enter into sin with that person by covering it up.  Stay out of their sin.
Sadly, number six is all too true in our conservative Anabaptist churches.  We do not believe people who complain of abuse.  Think about this:  For a conservative Anabaptist lady to admit that she is being abused is very painful and humiliating.  That the man who vowed to love and cherish her until death has betrayed her is a horrible thing.  That she believed him and now must admit that she has no faith in him, no confidence that he will not hurt her is humiliating.  That she cannot be loved like the other women in her life are loved by their spouses is deeply painful.  When a woman in our circles admits abuse and asks for help, believe her!  She is far more likely not to tell you of the depravity into which her husband has fallen than she is to exaggerate.  Take her words to heart and believe her.
Lastly, protect her.  Do not confront her husband until she is safely away from him.  A man who is abusive will lie to you and then punish his wife for talking.  A man whose shame is exposed will do anything to keep it hidden. In most cases when a man beats or murders his wife, it is because she told the truth.  The most dangerous period of time in a domestic violence case is when a woman separates to keep herself and her children safe.  Be prepared to protect her and the children.  To learn more about safety planning, click here.  Please do not underestimate this detail.
Most men who abuse try to isolate a woman.  A husband will try to limit his wife's contact with others including her family.  He might disconnect the telephone or hide her cell phone after abuse incidents.  He might tell her that she cannot visit her family until she jumps through hoops to make him happy.  He tells her that her friends do not like the way she dresses or how she acts in order to limit her ability to tell the truth to them.  He might control all the finances or give her an allowance because he wants to limit her ability to get help and possibly survive apart from him.
I am an abuse survivor myself.  I have talked with many Mennonite and Amish women (we are not exempt) who have survived domestic violence.  The story I told you is only a mild glimpse into what occurred in some of their lives.  A few of the woman I personally know have horror stories.  Stories of being raped, choked, beaten, stalked, threatened, having children who were molested by their husbands…  the list goes on.
A woman who has survived abuse may appear weak.  She may have children who bounce off the walls and seem uncontrollable to you.  They are reacting to trauma.  Help her to get counseling to deal with them.  Do not treat them differently then you expect to be treated.  They will survive.  They have already survived far worse. Do not make decisions for a woman who is recovering from domestic violence.  She has had choices taken away from her long enough.  She may make poor choices at first, but she will learn.  She will grow and she will blossom into a confident happy lady in a few years.  It takes time to recover and to grow into the woman God meant for her to become.  Do the opposite thing an abuser would do.  Give her choices. Let her make the decisions involving herself and her children.  Encourage her and love her.  If you have any questions about what love looks like, read I Corinthians 13.
Emotional abuse and verbal abuse are far more insidious and frightening then physical abuse.  I hear of those who say, "Was he physically abusive?  Well, if not…"  No!  The emotional abuse and verbal abuse is what damages a woman far worse than physical abuse.  Physical abuse can wound, but wounds heal.  The fear, self-hatred, doubt, pain and sadness that psychological abuse inflicts on the lives of women and children who survive it are barriers that stand in the way of healthy relationships.  They also stand in the way of relationship with God.  "For God hath not given us the spirit of fear; but of power, and of love, and of a sound mind (II Timothy 1:7)."
***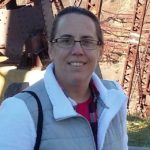 My name is Rosanna.  I am a member of a conservative Mennonite church in Lancaster County, PA.  I am a working mom of three wonderful children.  My daughter and son are teenagers and my youngest son is not quite a teenager. I enjoy my friends and family and warm sunny days.  When the days are not warm and sunny I enjoy listening to the elements snug in a blanket with a cup of coffee in hand.  I am a domestic violence survivor.  God doesn't allow us to stay in victim mode.  He's bigger than that!  I am so grateful to Him whom I love and live for and Who has blessed me abundantly!