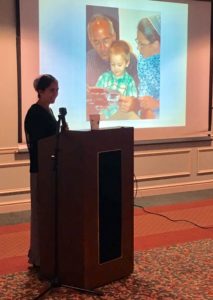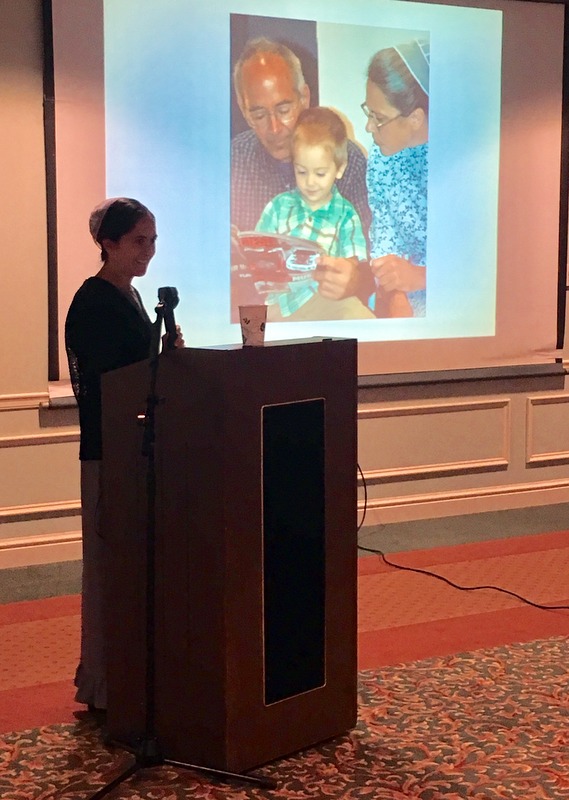 Interested in hearing more about my journey as an author, in exploring with me the nature of Christ-like simplicity, or just in getting a chance to ask all the questions you ever wanted to ask about a Mennonite? I am available to speak at your church or small study group and also happy for opportunities to read or speak at your school, university, book club, etc.
Church Groups
I have spoken to and enjoyed connecting with both Anabaptist and non-Anabaptist church groups. Anabaptists may find that they connect with much of my struggle to walk with Jesus' feet while wearing Mennonite shoes. And Christians of other denominations will understand my wish to live a simple, Christ-focused life in our materialistic age and will also enjoy a FAQ session, where I am honest and open in answering questions about Mennonite beliefs and practice.
Lucinda Miller spoke eloquently, compassionately, and knowledgeably about simplicity in a way that challenged and encouraged our wealthy suburban congregation. It is beyond clear that Lucinda has a deep desire to share Christ's love, and can do so with remarkable grace and poise. 

– Jason Freyer, Associate Pastor at Westminster Presbyterian Church, Pittsburgh, Pennsylvania
As I sat and listened to Luci talk, my inner voice was saying "Yes! This is just what I wanted my audience to hear." Raw emotions, real personal stories, and a passion for Christ. In my opinion, anyone can stand up and string words together, but it takes a true speaker to be honest and open. The girls sat fully attentive, leaning forward and taking it all in. Thank you, Luci, for being our guest speaker!

– Valita Beckett, Administrator at Daughters of Promise, an Anabaptist girls retreat
Mixed or Secular Groups
Many people are curious about the Plain people, but much of the information on television and in novels is second-hand at best and wildly exaggerated or idealized at worst. I would be glad to hold a literary event or book reading tailored to your audience. I will be open in sharing my perspective as an author and a human being, and you and your group will have the chance to ask all those Mennonite questions—like "How long is your hair?" and "Do you have any fun?" and "Do you feel repressed as a Mennonite woman?"—which you would never dare to ask anywhere else.
I can only speak from my own experience in my corner of the Mennonite world, and do not profess to know everything there is to know about the Plain people, but what I know I am happy to share.
In July, Lucinda Miller came to Toad House to read from her just published book Anything but Simple and share thoughts about her life and struggles as an aspiring writer. Her book is autobiographical, sharing her life, family, and struggles for autonomy while holding fast to her faith. Those attending shared thoughts on how young people of faith and non-faith are more alike than different in their beliefs, struggles and choices as they become adults. Her book is a wonderful, honest read.

-Eileen Zeisler, Owner and Administrator at Toad House, an art gallery/bakery in Ladysmith, Wisconsin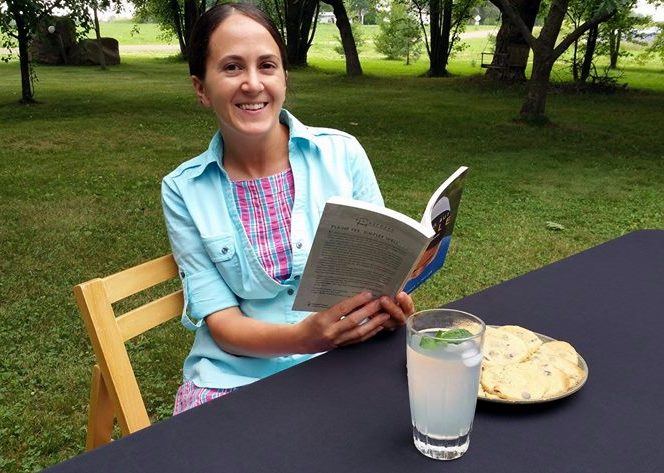 If you are interested…
contact me through my blog contact form or email me at lucinda[at]lucindajmiller[dot]com. Both methods will drop you directly into my inbox.