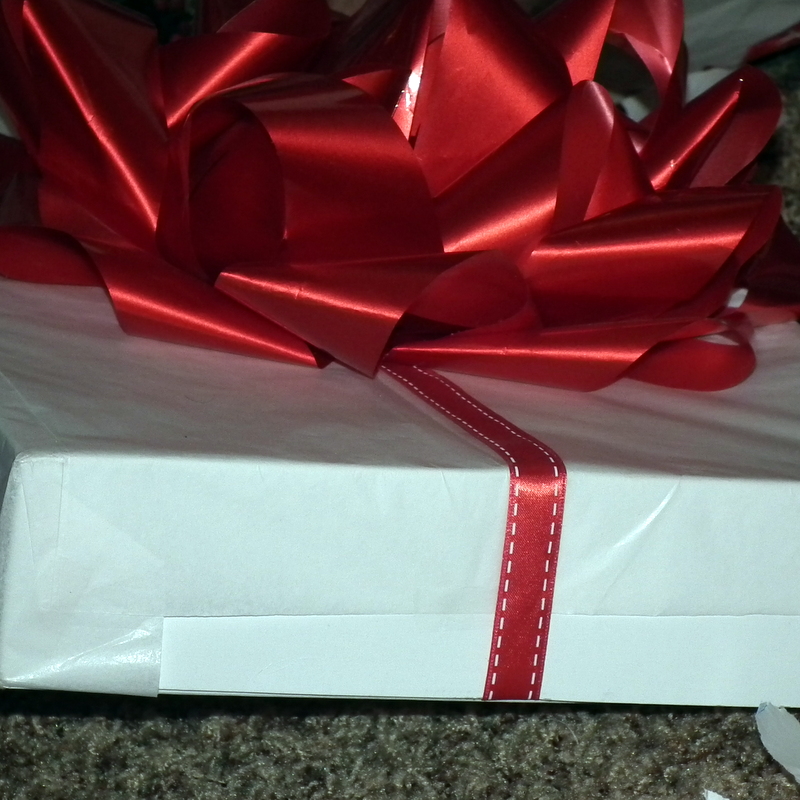 We didn't believe in Santa when we were young. We never hung a stocking, never put up a Christmas tree, never strung Christmas lights.
We did celebrate the birth of Christ. We did sing Christmas carols, bake Christmas goodies, and hold a day of family celebration.
And this one thing we did in abundance: we opened up piles of shining Christmas gifts.
I still remember the joy of those gifts.
I remember waiting by the carts at Farm and Fleet while Mom and Dad were inside Christmas shopping, and seeing them come out with carts piled high and ALL COVERED UP. It was more exciting than you can imagine.
All eight of us children bought gifts, too, when we were old enough. We'd go to Dollar Tree to pick them out, take them home and wrap them, pile them in a corner of our respective bedrooms until it was time.
And then Christmas eve–we almost always opened our gifts Christmas eve–the huge crinkly stack of them on the living room floor. The shaking, the guessing, the ripping, the discovery, the HUGE pile of wrapping paper when we were done.
It was very exciting.
I know far-thinking parents who believe gifts should be given in moderation–but I just remember how very privileged I felt as a child with that shining pile of Christmas gifts.
I don't think Dad and Mom ever spent a large amount. They didn't buy expensive gifts–but they bought them in abundance. And I suppose there were so many gifts because there were so many children. Put presents for ten people in a stack on the floor, and they soon add up.
It made for a rich experience.
Children own gifts. They are the ones for whom presents are made.
When the world has lost its newness–when one has learned that under every aisle of toys and under every lightning-fast sales pitch lies a shining tower of commercialism–trinkets and toys and Christmas gifts don't mean so much. Sometimes they don't mean more than the stress of shopping and the wondering afterward where to put it all.
This year my family plans to do a five-dollar blind gift exchange. It will be fun, with absolutely no stress of Christmas shopping. And we'll give gifts to the two nieces and new little nephew and have the joy of watching them rip open the paper to discover what's inside.
Sitting around the living room with the others–lounged on the couches, sprawled on the floor–I will examine my shining pile of Christmas gifts. They have changed from the gifts of my childhood.
There is love, in shiny red paper. I place that one on top.
There are the crinkles around Mom's eyes when she smiles.
The round-eyed nephew, small behind my brother's arms, cheeks soft against his beard.
The little girls and their giggles, hair flying, eyes shining.
Stories.
Photographs.
A table full of goodies.
The way Dad throws his head back and laughs when something strikes his funny bone.
The thousand-piece puzzle we work at together, eyes scanning edges, elbows bumping.
All these, and hundreds more.
It is a pile of shining Christmas gifts.