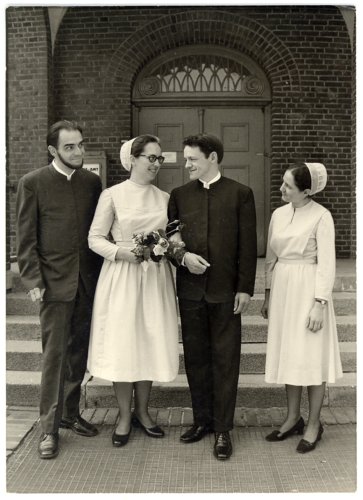 I briefly considered calling this post "Mennonite and Single," but that sounds too much like a profile I might put on a Mennonite dating site—a "here I am, come and get me" type of  line. Several of my non-Mennonite friends, concerned about my lack of a husband, have actually suggested I start a dating service such as that . . . MennoMatch, Mennonite Mingle . . . you get the idea. And I've always told them "No way!"
No way does a non-Mennonite have any idea how such an action would ruin my good reputation in Mennonite circles. We pray for a mate. We create lists of what to look for in a partner and hold seminars on how to conduct a godly courtship. We attend youth group, youth rallies, Bible school—nonchalantly, as though dating someone is the last thing on our mind.
We do NOT advertise.
Turns out I don't need to start a Mennonite dating site, though. There already is one.
Yup. It's called MennoMeet: An Online Singles Potluck. Check it out if you don't believe me. No way could I have come up with something that corny myself.
It's my non-Mennonite friends who seem most concerned about my singleness, by the way.
I have heard Mennonites say that we as a denomination have exalted marriage above its Biblical importance, and that consequently singles in our churches are marginalized and overlooked. That no doubt has an aspect of truth in it, but on a personal level, it is always my non-Mennonite friends who ask me those awkward questions. You know the ones.
"Do you have a boyfriend yet?"
Uh, no. I didn't last time either, or the time before that. And I know you are looking at me wondering what I do in my lonely little house all day, and how come I never go out and meet people.
"Why aren't you dating, Luci?"
Let me see. I could say, "I don't care about getting married," but that would make me sound cold and unnatural. Or I could say, "Well, I would if someone would ask me," but that would make me sound desperate and unhappy. Guess I'll settle with, "Well, if God has marriage for me, fine, and if he doesn't, that's fine, too." Which will leave you looking bewildered—as though I just said God has to find me a job, or else I won't have one—but at least it doesn't commit me to anything.
"When are you going to find someone?"
Does, "I don't know," work for you?

Last year, two Mennonite singles—one a man and one a woman—posted their thoughts on marriage and its relation to the church. They had v-e-r-y different ideas.
The girl, Esther, was all like: Marriage is w-a-a-y too important in the church. Marriage is really only a metaphor of Christ and his union with the church. We should be focusing, not on marriage, but on kingdom work. Marriage is an idol that leads to an ineffective Christian witness. You can read her post, called "The Idol of Marriage," here.
The guy—his name is Joel—was all like: In this individualistic day and age, marriage has become an inconvenience. Young people in the Mennonite church—especially the girls—don't want to commit to marriage, either because they are too selfish or too idealistic for their own good. And not choosing commitment will cost our faith and our future. "Disposable Mennonite Men: Millennial Rejection of Marriage and Mennonite Bachelors."
It was like watching a CNN news clip and then switching over to Fox. Whose world is reality here?
When I read the posts, I was all like: Come on guys. This is life. We're human more than godly. We do what we do, and it's not always bad or good. Sometimes it just is.
Esther, I really don't think marriage (by which we mean sexual and emotional intimacy) is an idol, but a basic human desire. Like food. (Okay, so maybe food can be an idol, too.) But I would hate to say that all the people who so blithely wish marriage on me are idolators. I really just think they want me to experience the happiness in marriage they have found. And that's a good thing, well-meant. I would hate for it to be the other way.
That being said, I appreciated your thoughts, especially the last section, which highlights how greatly singles are needed in the Christian church. I had never thought before about those issues which a single Christian can more relevantly address than a married person. Clearly, marriage is not for everyone, and to be a single with a testimony is powerful.
And no, Joel, I am not selfish or idealistic just because marriage has never worked out for me. (I lost my idealism in that respect after I reached twenty-four or so.) And no, I definitely do not keep a list. Anyway, in my experience, a guy is every bit as choosy as a girl in selecting a partner. I'm fairly certain you haven't yet asked every single girl that you know.
I do understand where you're coming from, though. A guy is more unhappy without a girl than a girl without a guy, as you pointed out in your blog. And now that the days of women needing a man to earn her a living are past, girls are just that much harder to squeeze a "yes" from.
Here is a song of commiseration:
(For the uninitiated, all the initials and names in this song are Mennonite Bible schools and Mennonite missions, often ideal places to find a partner.)
Be comforted, singles. There is humor in the world yet.
***
Feature photo at the top is courtesy of the PAX collection, Mennonite Church USA archives, posted in "Awkward Mennonite Photos" by Colleen McFarland.