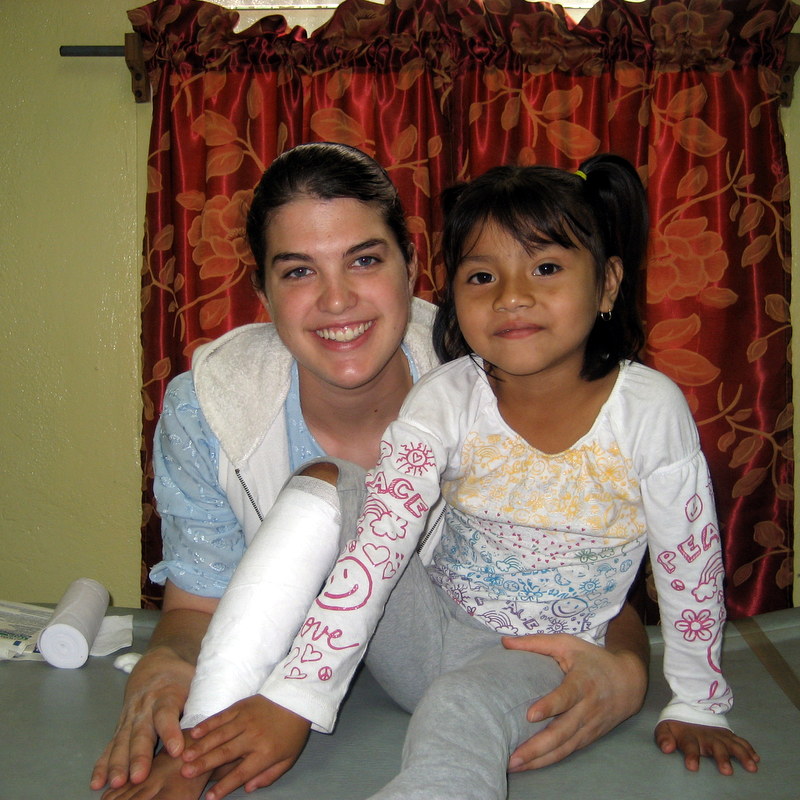 Hi, everybody. I've recently begun writing a column in the Daughters of Promise magazine. The column is called "Women in the Trenches" and focuses on real women in real life situations and the work they are doing for God. This first article is on Kendra Lily Martin, RN in Guatemala. You can read the article here, or if you'd like to view the full issue, go to www.issuu.com/daughtersofpromise.
Peten, Guatemala.
Tropical rain forest. Land of coconut and palm trees, monkeys, geckos, and three-wheeled motorcycle taxis called tuk-tuks. It is the wild west of Guatemala. In years past, the government paid people to settle in the Petén. They also sent convicts there, gave them a piece of land, and said, in effect, "Make something of yourself." The population grew, and today is composed of both Mayans and the Spanish-descended Latinos. The poor of the Petén work as farmers and construction workers, the rich as cattle ranchers and drug dealers. The poorest of the poor live in tin houses and subsist on beans, corn, and tortillas, with perhaps chicken for a party.
It is here, in this lush and tropical part of Guatemala, in the municipality of El Chal, that Kendra Lily Martin has chosen to pursue her nursing degree.
Every Saturday of the school year, she, along with her study partner, Priscila Muñoz, wake at four thirty to dress, eat breakfast, and walk a block to the main road, where they flag down a bus headed toward the university. They are fortunate to live on the edge of town, as they are usually able to grab seats before the bus–in actuality a Toyota maxi van–is packed to the hilt with both sitting and standing passengers. If they are lucky, they might catch a cat nap during the hour's drive to the university in Santa Elena. The university is a large campus with many students. It is similar to a U.S. campus, but the buildings are made of cement block instead of brick, the windows are covered by decorative iron grates instead of glass, and air conditioning is non-existent. After a long, hot day of classes, Kendra and Priscila bus back to El Chal, feeling like puppies with their tails between their legs, a week of intense homework ahead of them.
Even though Kendra Lily is skilled in Spanish, studying in a second language, in a school system foreign to her, is difficult. Kendra says she would never have made it without Priscila. "We are a good balance for each other," Kendra says. "We go in shifts. Sometimes I'll be saying, 'Come on, Priscila, let's study,' and the next time it'll be me who has no desire to study, and she'll be saying, 'Come on, Kendra!' I'm good at the hands on stuff, but Pris is better with the textbooks. I tease her that she has to take out her hammer when we study and hammer the words into my head."
I met Kendra Lily in 2003, when her missionary family moved up from Novillero, Guatemala, to my home state of Wisconsin. She was thirteen at the time, fourth in a long row of blue-eyed children. I thought them exotic. They were talkative, sturdy, and adventurous, and had traveled to places I only dreamed of. The family eventually bought an abandoned brick school building, three stories high, and moved in.
Who would do such a thing? we dyed-in-the-wool Americans wondered.
Returned missionaries, that's who.
The Martins became an integral part of our rural Wisconsin community. Kendra Lily was always in the thick of any activity or church get-together. She was outgoing, capable, and fun, with a smile that would split a rock in two.
In 2011, Kendra Lily returned to Guatemala to live with her brother and his family and to pursue her dream of nursing. She told me, during our interview, "I picked nursing because I want to help people. I have no idea what situations I'll find myself in, but it's good to know how you can help someone. I chose to study in Guatemala because I couldn't see myself working as a nurse in the states, where there is too much legal stuff and not a lot of hands on."
In Guatemala, she has received more than her share of hands on. Within the first three months of schooling, the Guatemalan nursing students were learning to administer shots and IV's. Instead of practicing for the first time on a dummy, as nursing students in the states would do, they practiced on each other. In their second practice session, they worked on real patients. The nursing students take an active part in community health, doing work projects and going into schools to give medical checkups and health education to the children.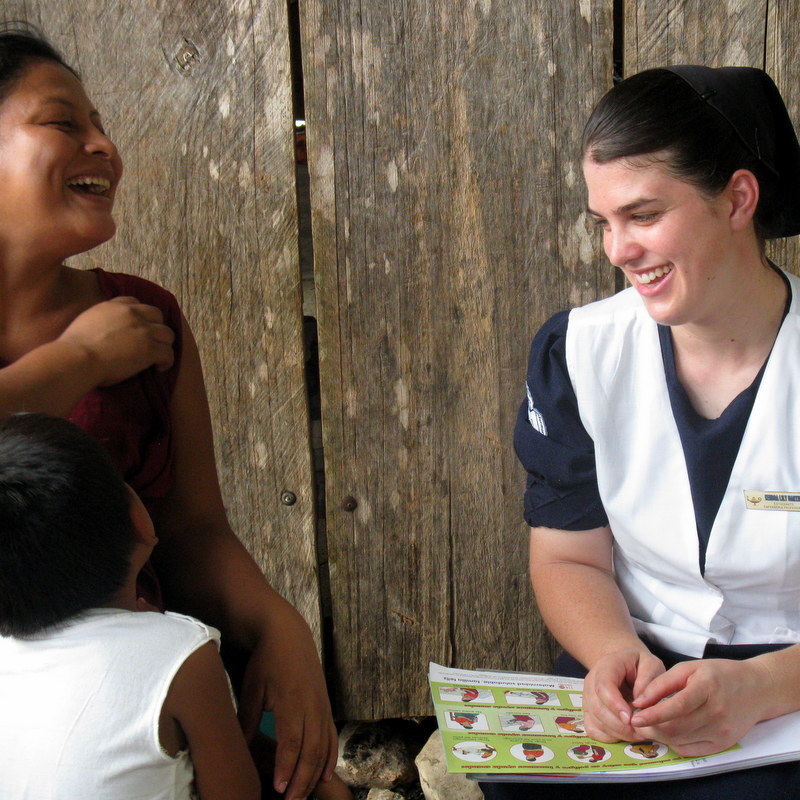 Kendra has also gained valuable hands-on experience working in the mission's Good Samaritan Clinic. The clinic is run by a team of volunteer nurses. Its purpose is to reach out to the community and provide medical services at affordable prices. The free, government-run clinics of Guatemala provide medical help that is often shoddy, while private clinics typically charge two hundred quetzales ($25 USD), a price which only the richest Guatemalans can afford. The Good Samaritan Clinic charges only fifteen quetzales ($2 USD) a visit. It cannot employ a doctor, but even the rich sometimes prefer it to the doctor-run clinics.
Kendra Lily says, "Even though we do not have a doctor, our care tends to be better. We take time to listen, and sometimes that is all somebody needs. We want to be there for people who need spiritual help. Sometimes we end up just talking. We send them home with a little relief medicine, but basically, they got better because they got it out of their system."
The clinic promotes health care and education, teaching life-style changes, better nutrition, and exercise. For those who cannot afford to pay even the fifteen quetzales, a mission fund covers their cost.
At the clinic, Kendra Lily and the other nurses do everything a general practitioner might do. During a day's work, Kendra might find herself washing out an old codger's wax-plugged ears, stitching up a little boy's finger, administering emergency oxygen to a woman having an asthma attack, checking monthly blood sugars, treating the dengue fever so common in the tropics, prescribing an antibiotic for a urinary tract infection, dealing with a diabetic ulcer, or giving shots or medicine for a host of other ailments.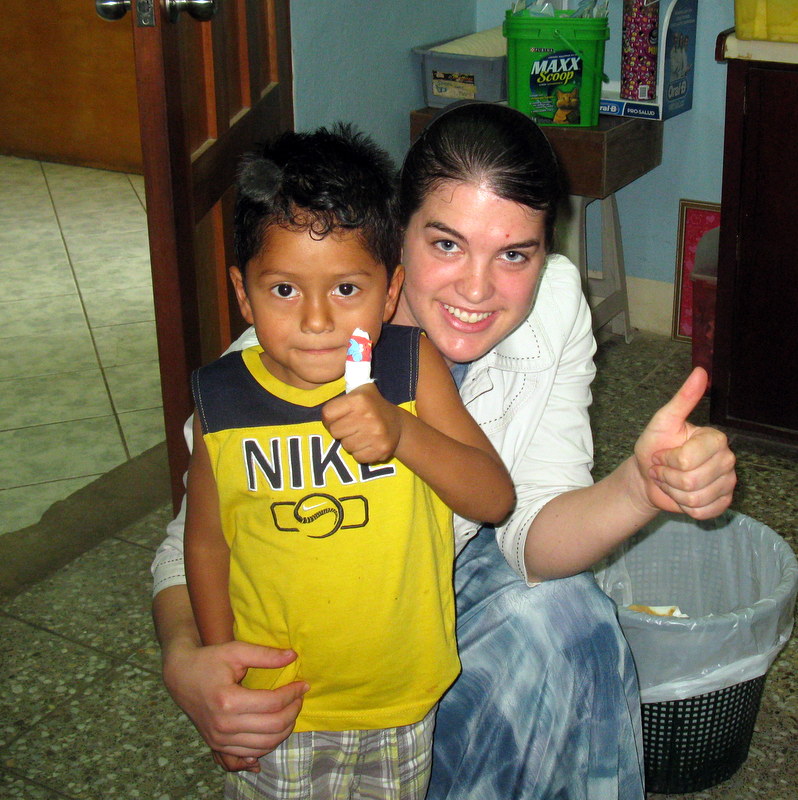 There are currently six nurses. During their busiest season, they have to limit their patients to a manageable amount–perhaps fifteen to twenty patients per nurse per day. Patients sometimes travel for hours to reach them. The nurses do what they can with the resources and skills available to them. Emergency cases are sent on to the nearest government hospital, an hour away.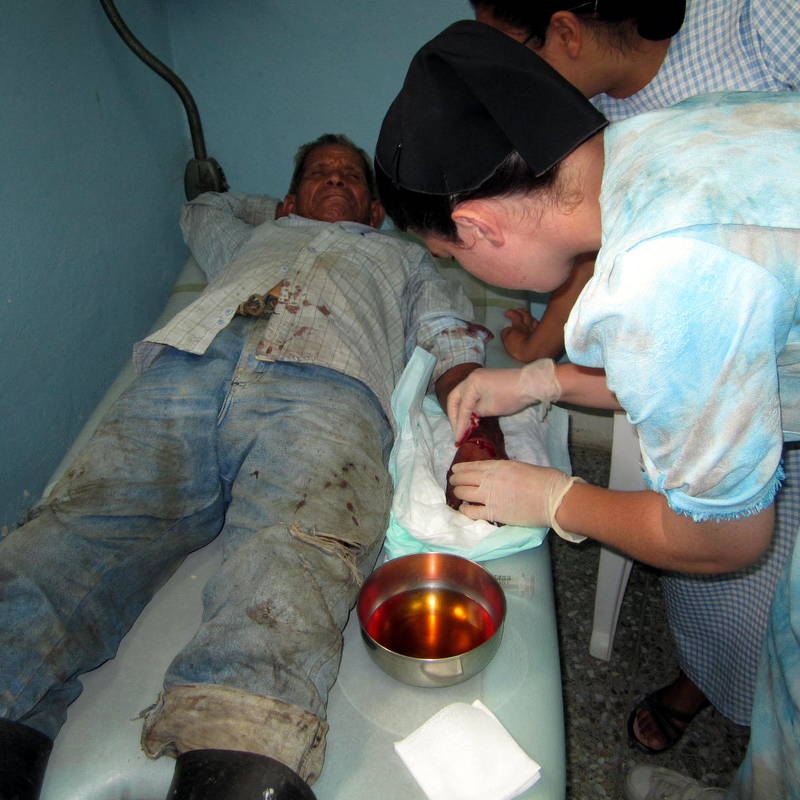 When I asked Kendra Lily what she planned to do with her nursing degree, she said, "I would like to work in the Shalom Missionary Hospital here in Guatemala to get more experience as a nurse. What I'm doing in the clinic is actually doctor's work. My goal for sometime next year is to go to the states and take my state boards, so I can become registered as a nurse there. After that, it's hard to tell. I definitely want to keep working at the clinic. But I want to do and go where God wants me to do and go. I want to be flexible."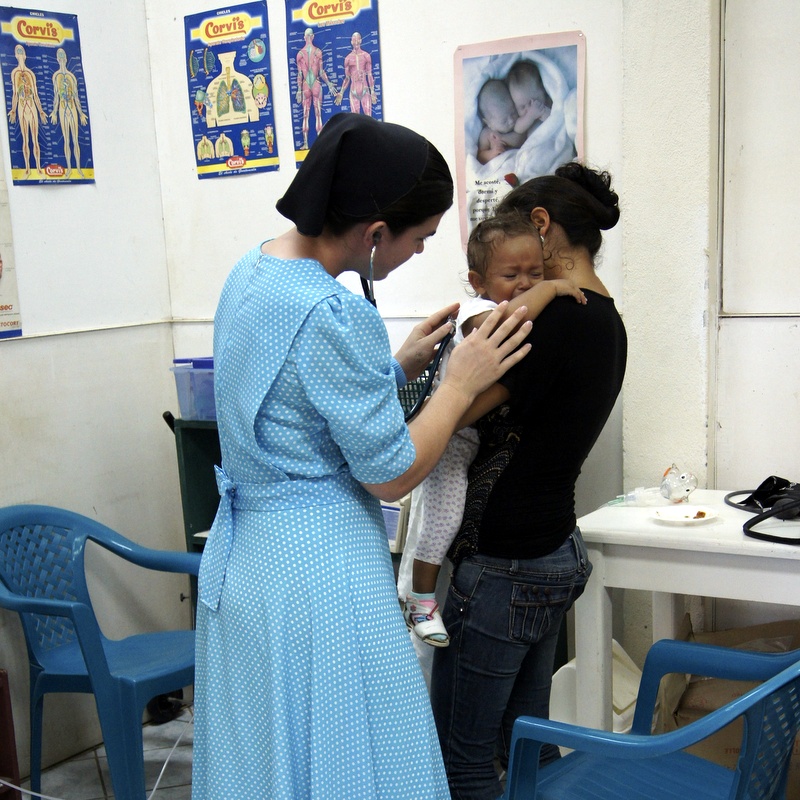 "Tell me a story of a time you've seen God at work there in Guatemala," I said.
She thought about it. "One time when I was working in the government hospital during clinicals, I was assigned to a patient who had been in an accident. She had banged up her head; her face was all swollen up and her eyelids blue; and she was waiting for tests to come back that told whether she had internal injuries. I took care of her, washed her up and put ice on her eyes, and we were talking, when all of a sudden she asked, 'Are you a Christian?' I said, 'Yes,' and she said, 'I could tell you were a Christian, because when you walked in, I felt a peace come over me. I could feel God's presence, and I knew I was going to be ok.'
"I needed that reminder," Kendra Lily said, "that no matter where I am or what I am doing, I am an ambassador. It has to do with being a light where you are. People think being a missionary is more romantic, but it's not. I am just a normal person living a normal life somewhere else. Being a light is something I still struggle with. I mean, I work in a ministry, right? But I still can get stuck in a rut just doing my thing and not paying attention to people, especially when school gets hard.
"There was a lady who came in to the clinic the other day. She was my patient, and told me something about not sleeping well at nights. I asked if she was stressed or if there was something bothering her, trying to figure out what her problem was. 'I really don't know that I need anything,' she finally said. 'I just always feel better when I come here, and someone prays with me.'
"That humbled me and at the same time made me wonder why we don't do that more often–just pray. After all, who is the all powerful here? I know infection needs an antibiotic, but we need to remember that the true healing comes from God."