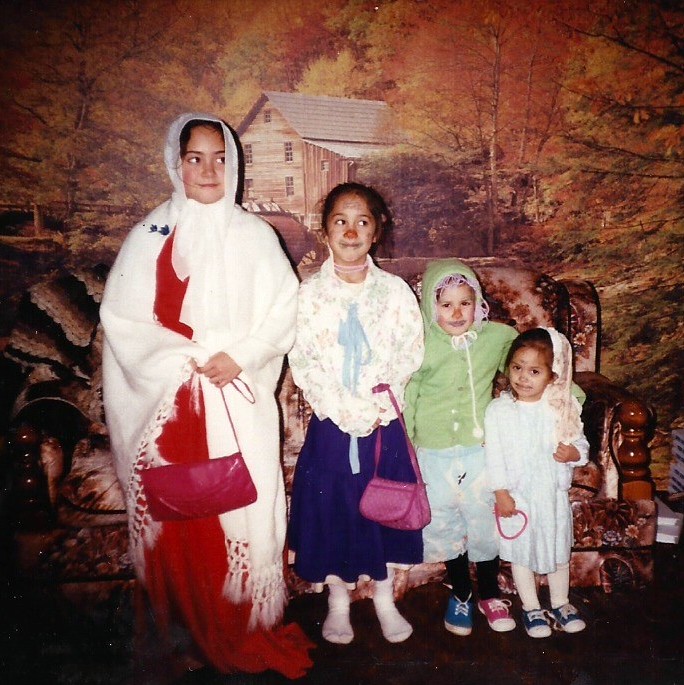 In my family, dress up has long been an intricate and enjoyable art. Here is a little of our dress-up history, as well as a few tips on how to dress up well.
Early Dress Up
Dora and Jennie, my two oldest sisters, began it. Here they are, dressed as old ladies. For old lady dress up, powdered hair and glasses worn low on the nose give a realistic effect.
My sisters and I dressed as clowns one day. We found that markers worked well as face paints, and lavender yarn as clown curls. Mismatched shoes add an amusing touch.
We girls loved to put dresses on our little brothers.
In later years, we found that dressing ourselves as guys was also fun. Stocking caps can be used to cover long hair, and the age old pillow stuffing trick works for extra weight.
With a little imagination, garbage bags make great pirate costumes. Construction paper can be used for eye patches and black marker (permanent) for goatees.
A chenille throw and paper crown will do for any princess.
Accessories
Sometimes all it takes is a handy accessory, a sun hat, perhaps, or a pair of glasses, to give one that exotic feel of dressing up.
Sombreros:
Sun hat:
Coonskin:
A Floppy Flower Hat has an interesting effect on the contours of the face.
Glasses are another easy dress-up accessory. In the photo below, Jennie and I model glasses as well as slips, worn on the outside instead of the inside for an apron effect. We were proud of our ingenuity.
A pair of sunglasses can give one the casual, distant air of a movie star. My niece MacKenzie is the model here. She wears them well.
Everyone has an uncle like this, right? I mean the sort who put on nose glasses and ham around.
Rock Stars
One day my siblings and I dressed as rock stars. Or tried. Jeffrey won the prize for best acting. Let's not tell him that rock stars don't really use keyboards. We spent hours finding black items of clothing, experimenting with the lighting, and scrambling to get in place for timed photos.
Dress-Up Events
A great way to make dress up a part of your life is to host a special event. There are many imaginative ways to do this.
Hobo Supper
One evening, my parents hosted a hobo supper. They invited the church youth group to come dressed as hobos. Suppers were cooked individually on tin cans. To do this, we heated coal in a small tin can and placed the small can below a larger can to create a hot surface for cooking.
Costume Party
Another evening, my family hosted a costume party. It took me hours to design my costume. I used a large swathe of fabric for a dress; designed an elegant lady's hat with poster board, tulle, and silver ribbon; and taped construction paper tips to my modern-day shoes for that authentic pointed effect.
Is that a black Hindu Muslim standing with the Kenyan lady?
My two youngest brothers dressed for the event as an organ grinder and Daniel Boone.
Book Day
During my school-teaching years in Virginia, I planned a book day. Students came dressed in costumes to match a book character.
Barn Social
Also in Virginia, I attended a barn social held in a hay loft. My costume was a new spin on cowgirl, complete with an orange ribbon hat, multicolored dress, and denim vest.
Fancy Ladies Tea
My sister Jennie hosted a fancy ladies' tea as a birthday party one year. The results were varied and imaginative.
Mall Hide-and-Go-Seek
Try this one for originality. My cousin Krista, and her husband Jamin, took part in a youth event where participants entered the mall in disguise and tried to find other disguised mall goers from their group. Would you have recognized this couple?
Masks
A simple and effective method of dress up, especially with the intent to scare, is to don a mask. This mask is popular in my family and has elicited more than its share of screams.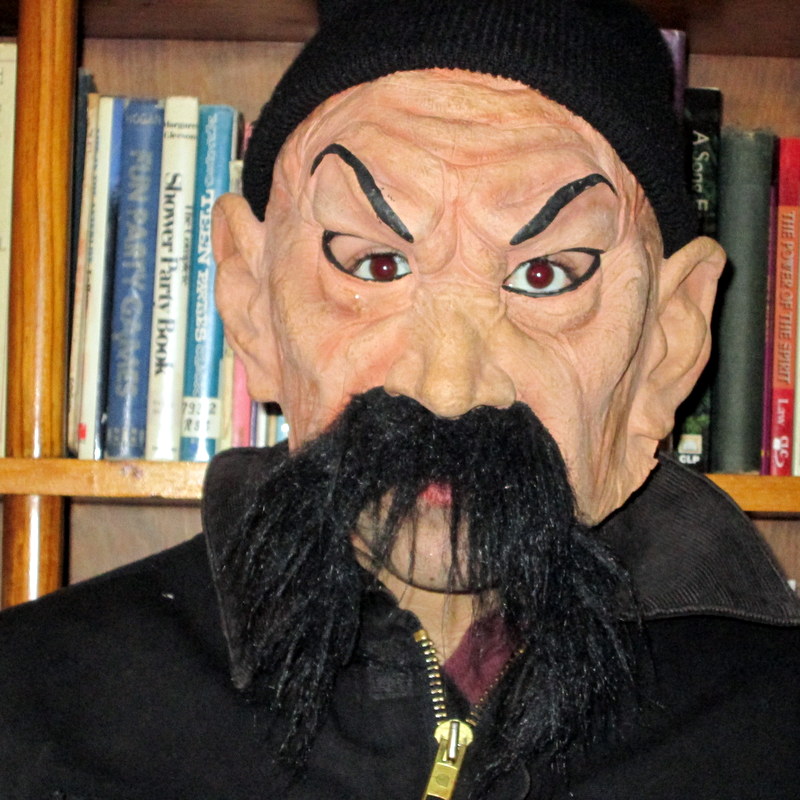 And thus I conclude this history of the art of dress up in my family. Dress up has intrigued, delighted, and amused people of all ages for centuries. Plan your costume party today.