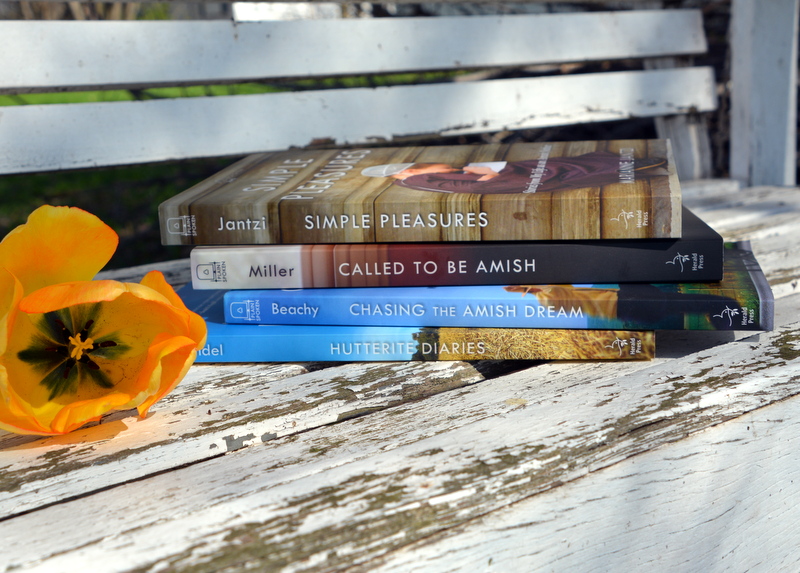 Well, I got this in the mail today: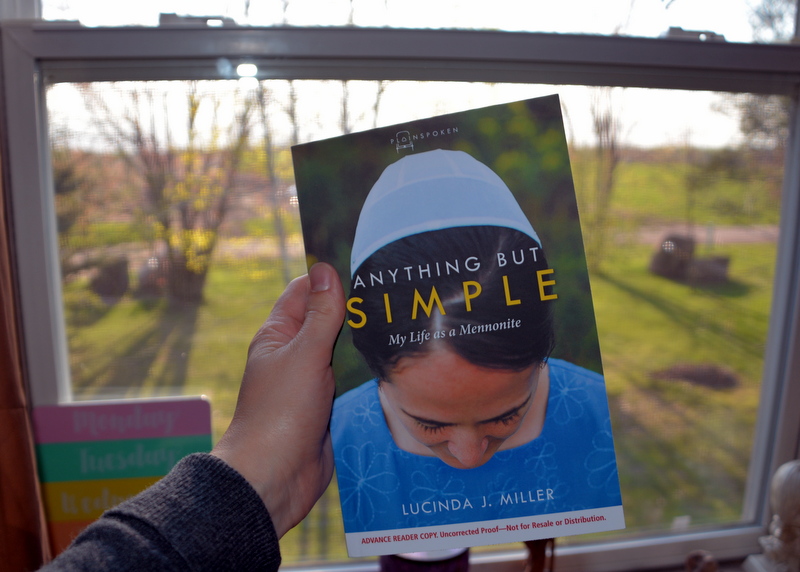 It's the advance reader copy of Anything But Simple, scheduled to come out the end of July. To celebrate having made it this far, I am going to host my very first giveaway! Anything But Simple will join the Plainspoken series put out by Herald Press, and it is my pleasure to give one lucky reader the other four books in the series.
Here are each of the books individually, with a description taken from the back cover: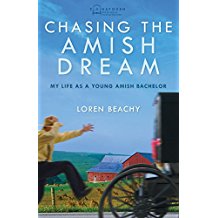 Chasing the Amish Dream by Loren Beachy. "Life in author Loren Beachy's Amish community brims with old fashioned box socials, smart-alecky students, and pranks involving pink duct tape and black pepper. Meet the young women who manage to be late for church twice in one day and the man with ill fated plans to fight drowsiness by jogging beside his horse and buggy. Cheer for Beachy and his cousins in spirited baseball games, and join community members as they surround and support a family in their loss. With the witty warmth of small-town storytellers like Garrison Keillor and Jan Karon, Beachy invites readers into his life as a creative, wise, and wisecracking Old Order Amish schoolteacher and auctioneer."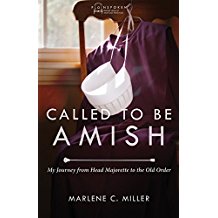 Called to Be Amish by Marlene C. Miller. "Fewer than one hundred outsiders have joined the Amish since 1950—and stayed. Marlene C. Miller is one of them. In this rare memoir, Miller recounts her unhappy and abusive childhood, how she throws herself into cheerleading and marching band, and how she falls in love with the the gentle young Amish man who helps her lace her ice skates. Follow the author on this unusual journey to find out how God's love called her out of bitterness and depression into the warm embrace of her new Amish community. Learn how she endures the strain of ten children, a hundred-acre farm, and personal tragedies, and find out how she comes close to walking away from it all. "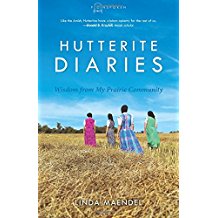 Hutterite Diaries by Linda Maendel. "What wold it be like to share your possessions and live in Christian community? Linda Maendel offers a rare glimpse into the daily routines and relational faith of her people, the Hutterian Brethren. With stories ranging from accounts of Hutterite weddings to a hilarious tale of an accidental baptism by salad dressing, Maendel invites readers into her colony. Here, nestled on the prairie of western Canada, children and adults work, play, eat, and worship together, crafting a community of goods and living out an alternative to the individualism and consumerism of mainstream society. Few outsiders know anything about the Hutterites. Maendel's story invites readers into deeper understanding of this community of faith."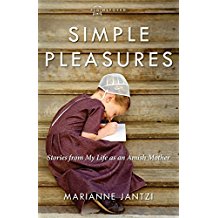 Simple Pleasures by Marianne Jantzi. "The mother of four young children, Marianne Jantzi tells real stories about parenting with equal measures of wit and warmth. Lend your sympathetic ear to stories of wrangling the children through winter-time adventures or learning to bake cinnamon buns. Throughout her busy days—sewing, cleaning, cooking, gardening, and helping to manage the family's shoe store—Jantzi discovers and celebrates the simple pleasures around us always waiting to be found. Drawing from her own deep faith, this young mother brings an encouraging word as she opens her heart to the joys and challenges in each God-given moment."
You have a chance to win the entire 4-book series by entering this giveaway.
To enter your name in the drawing, simply shoot me an email with your name on it. My email address (with symbols written as words to prevent spam) is lucinda[at]lucindajmiller[dot]com. You can also email me from my contact form on this blog.
Want your name entered twice? Share this blog online in some way: on Facebook, Twitter, Instagram, email, or any other form. Comment "Shared," below, and I will put your name in the drawing a second time.
On Wednesday, May 24, at 7:00 p.m. CST, my sister Elizabeth will draw the winning name, and you will get to see the grand revealing on a live Facebook video! Follow my FB page so you don't miss it . . . or simply check back on my blog the evening of May 24 to discover who the lucky person is.
Come visit me anytime on this blog. I love to hear from you, whether in the comments or through my personal contact form. Please let me know if you have any difficulties on here. Some people have been unable to subscribe or had trouble commenting. I think those glitches are ironed out, but I am still working to make sure. If you have any trouble, please let me know!
Check back every Tuesday for my latest blog. Why Tuesday? Traditionally, I have been posting every Monday, and I like the consistency of posting once a week. Originally, I'd planned to write on the weekend and have a post by Monday, but I've realized that my weekends are always jam-packed and not the greatest time for writing. My Saturdays tend to be full with catch-up work or special outings, and my Sundays are always replete with church, family, and friends.
I need that one extra day to get a blog post finished, so from here on out, I will post Tuesday mornings. Check back Tuesdays, or any day through the week, to read the latest post. Or if you are like me and prefer to read blogs by email, subscribe. I send the entire body of each blog post by email to my email subscribers.
Enter the giveaway! Have a great week.