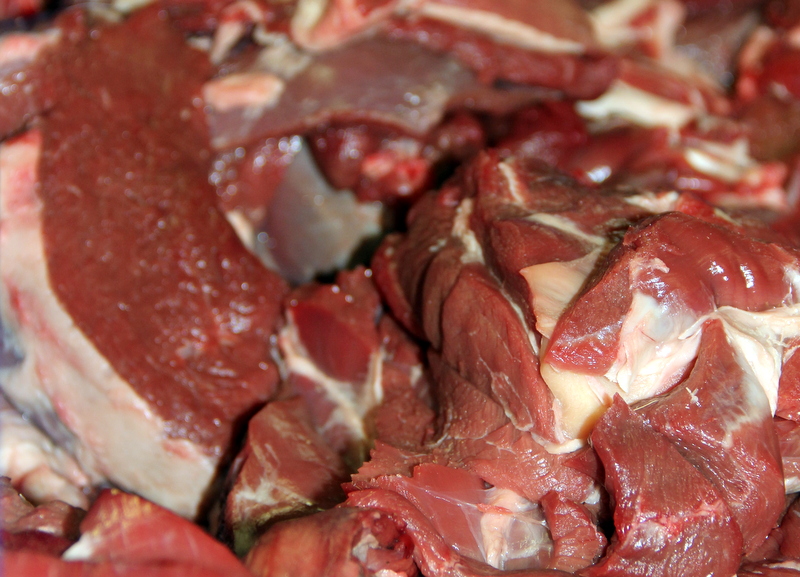 When I used to say that old nursery rhyme about the butcher, the baker, the candlestick maker, I always imagined the butcher as a beefy man with a white apron and a big knife. I never imagined then that I would one day have not one, but four family members who are butchers.
Let me introduce you to my three brothers, the owners of Conrath Quality Meats. According to their website: "Where quality and integrity meet your local custom butcher shop."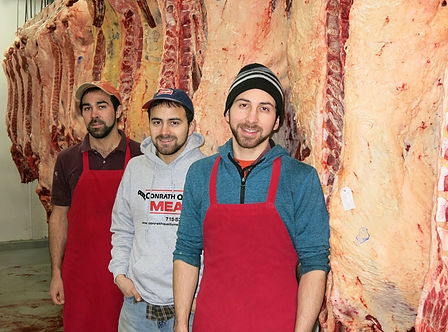 Starting from the back, that's Jeffrey, Chad, and Benny. Apparently, butchers wear red aprons and not white ones.
And this is my sister Elizabeth, who works for them. She's apparently overwhelmed by office work in this picture, but office work isn't all that she does. They tell me she's PRETTY mean with a knife.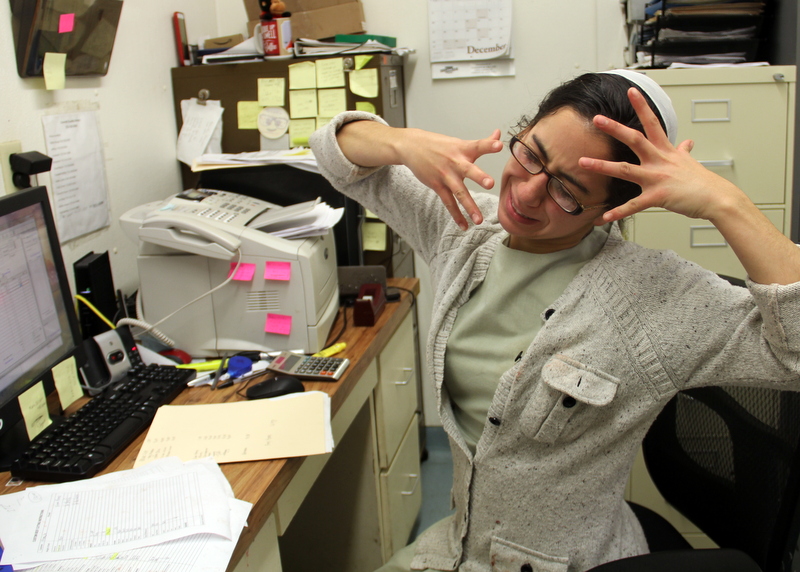 "No guy wants to mess with you!" a friend told her recently.
It's true. To be very explicit (and not at all nonresistant), she knows exactly where the head joins the neck and the neatest and quickest way to sever the one from the other.
Ivan also works at the meat shop: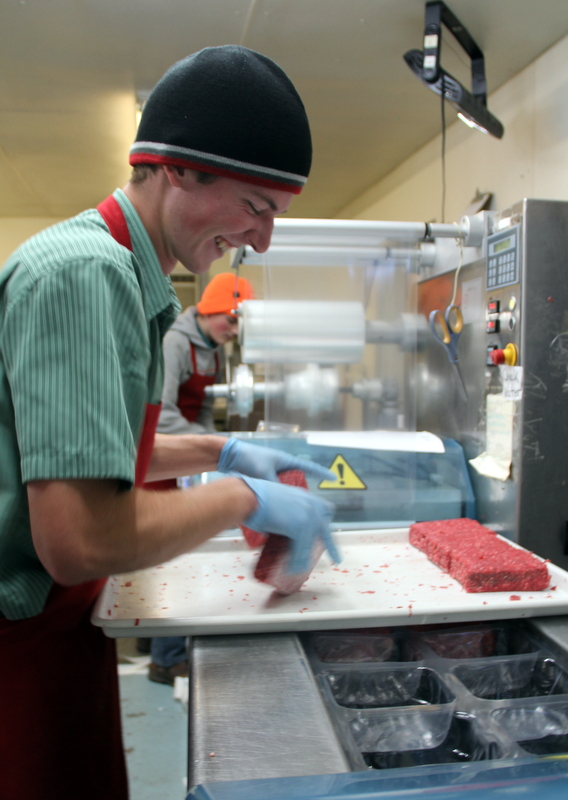 And Jonny. They are packaging ground meat in these pictures.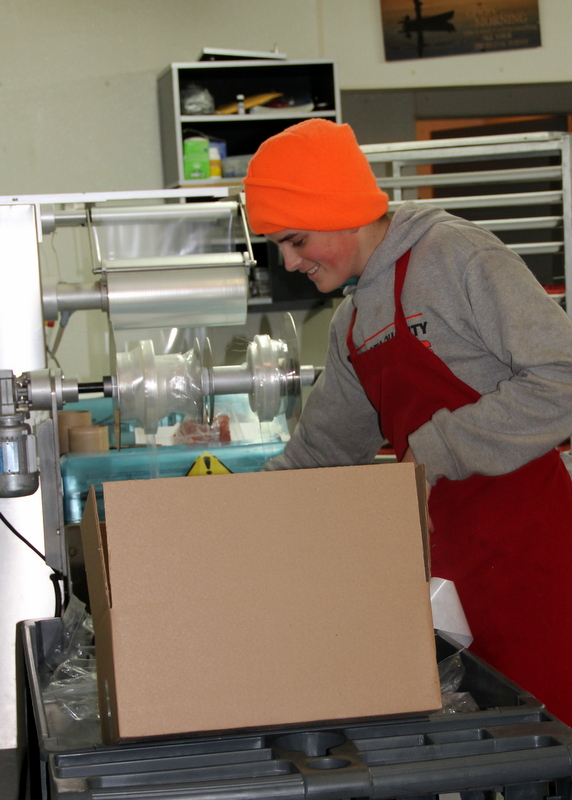 Here's Brett, washing his hands.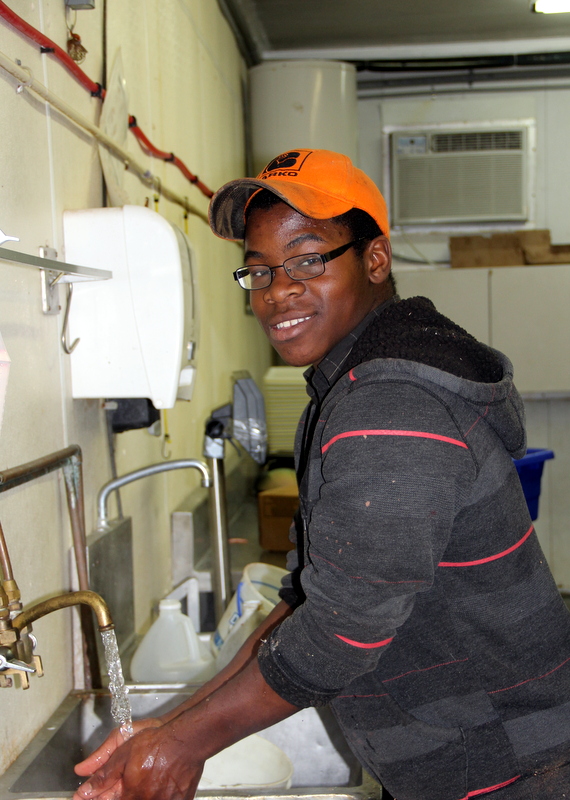 Abbey, packaging the cuts.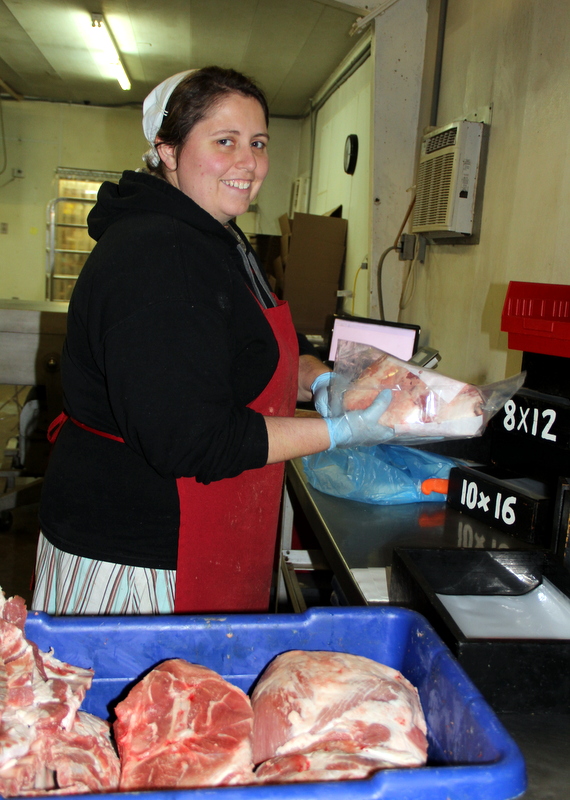 And Julia, boxing them up.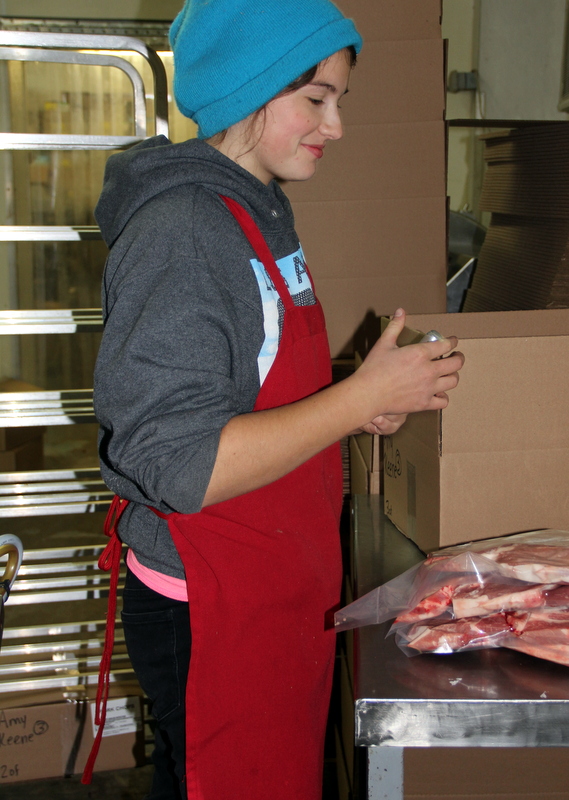 (Crystal not pictured.)
I come in near the end of the day to do cleanup. The building is cool when I walk in. It's always cold here. It's supposed to be, to aid in the preservation of the meat. The place smells like raw meat and wet cement and spices from the smoker. Three or four people standing around a table in the center, slicing at hunks and halves of red raw stuff. Three or four other people here or there around the edges of the room: packaging and labeling bacon, maybe, or running beef through the grinder. The gray painted cement under my feet is slick with a coating of water and fat.
The workers are laughing and talking among themselves. "Good morning!" they tell me, even though it is 4:00 p.m. and not morning at all. "Good morning." "Good morning." Good morning."
I slip into rubber boots and a blue plastic apron, punch in, and head out back to the slaughter floor, where I do my work.
Pictured below is what I have to clean up. Part of it, that is. Not pictured are the white trays and the meat grinder and the mixer and other things like that. Everything used in a day's work is hauled here to the slaughter floor/general utility room as the workers finish with it. I spray the things off with a pressure hose; wash them in a big stainless steel, wheeled sink; and bleach them in that red barrel you see tipped upside down in the photo.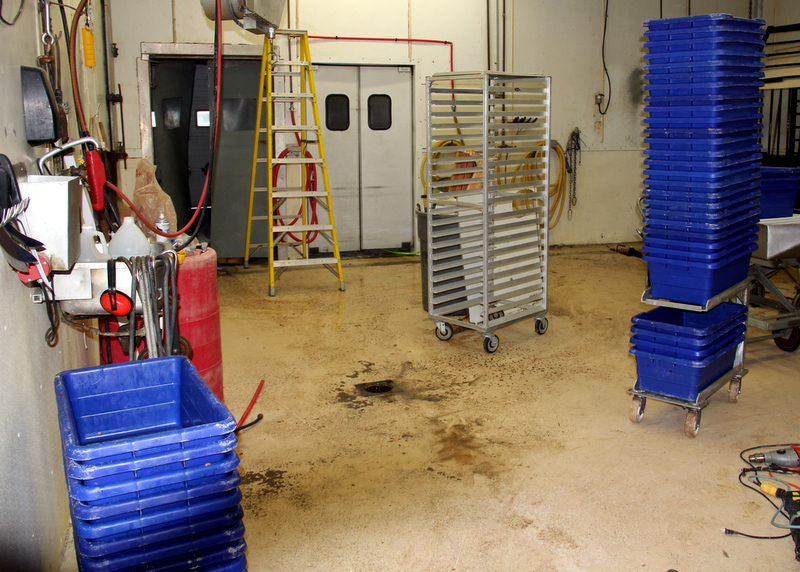 It's fun, believe it or not. It's hard work, but I've always liked cleaning things. (Okay, not always, but ever since—growing up in a big family as I did—I was forced to do it so often I learned to enjoy it.) And because I'm a writer who does a lot of sitting and thinking, I love having a job that is primarily physical, where I can STOP thinking for a while and let the rhythms of scrub brushes and lifting and spraying rest my mind. And it's good exercise. If I'm not careful, my back and wrists hurt when I am finished. But I am learning to use good ergonomics, and I've already gotten a bit stronger since beginning this job.
Yes! I have long been the wimp of the family. A little more strength is exactly what I need.
This is what the room looks like when I'm finished.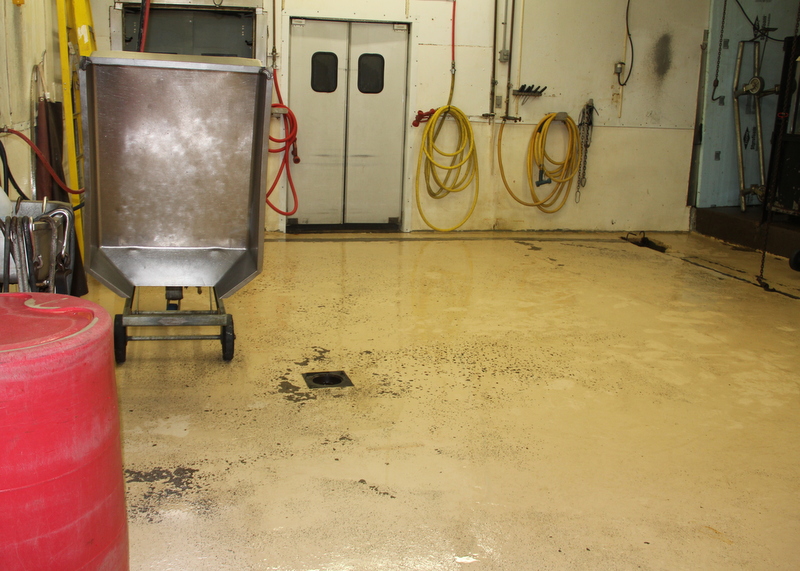 Such is the life of the clean-up lady.